November 23, 2017 | All Posts, Behind the Barrel | Mary Roy
Thankful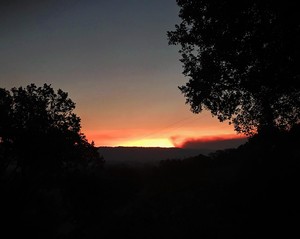 This year we are thankful to be alive and reflect back on a very frightening experience. On October 9, I awoke early in the morning and looked out to a sunrise that was more brilliant than usual, only to soon find out the horrifying reason why. Terrible fires had erupted throughout the area. It was snowing, but they weren't droplets of ice. It was 85 degrees and the sun was trying to shine. Ash was falling all around me as I stood alone on the new crush pad, as if Mt. Vesuvius had erupted (photo of ash inside one of our empty tanks).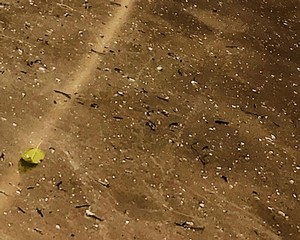 Our cellar assistant Francisco had just rushed back to Ukiah (north of us) to protect his family. The erosion control hydroseed workers on site had passed us information that the fires to the north had just jumped toward the direction of his home and family. Marco, our vineyard manager, had already been evacuated from his home in nearby Windsor and had headed east toward Sacramento. No word and no show on the construction workers, but the cell towers had burned down over night and there was no phone or internet. Local TV stations were reporting numerous rapidly spreading fires; it seemed all of California was ablaze. How eerie and quiet it was. The dogs were inside so that they could be easily located in case of evacuation. Just days before, the crush pad was buzzing with laughter, music and activity as we processed grapes together as a team. This had been the first crush at our new cave location and was a joyful experience. I checked on the bees, who were buzzing around quietly and calmly. That was it. No birds chirping. No more cyclists cruising down West Dry Creek Road. The sky was ochre, and breathing was difficult because of the smoke in the air that hung over the hills and vineyards. The surrounding native grasses were brown and brittle, and every ash that fell felt like a threat.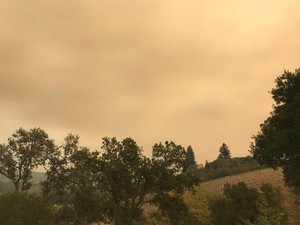 As new fires kept erupting and hopping from place to place, the winds also became variable, so we ended up evacuating twice. Bob was working his butt off back in Naperville, but I was not alone because Nadine, Tessie and PJ were here. The evacu-cation that we lived through will be ever memorable to all of us. The first time we evacuated we drove down to see our daughter Alexis in Santa Cruz for her 21st birthday (Nadine and I had already planned a quick overnight). As we drove our little three-car caravan down the 101 through Santa Rosa, we drove through a section where the guard rails were on fire along both sides of us, reminding us of a hellscape. About an hour later, there was a small earthquake, and about 30 minutes from the college we came upon a fatal car accident that completely shut down Route 17 over the Santa Cruz mountains. We sat in a sea of cars with their motors turned off for four hours, and eventually got redirected back away from town. By this time, it was too late to even see her and we had to spend the night in a Podunk hotel outside Los Gatos. Alexis, we still owe you one.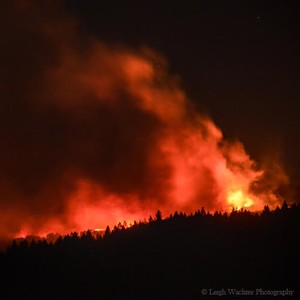 We returned back to Healdsburg early the next morning, with a slight improvement in conditions. But once again the winds soon changed, and now we were in grave danger of the growing Pocket Fire (a couple miles away to the east of us, see photo above taken by the neighbor from the top of our vineyard). I had a Scarlett moment as I looked around and thought about what I needed to do to save Tara (Capo Creek). We hosed down everything we could, moved equipment and propane tanks, and prepared again to evacuate. Tessie covered her face with a bandana to minimize smoke inhalation as she watered all the gardens, possibly for the last time. Although she looked like she was planning a bank robbery, she was blowing kisses to each tree and flower as she chanted the ancient Hawaiian prayer of forgiveness "Ho'opono pono." The words translate to "make things right" and is used to break up fear and negativity. Her chant continued as she passed the tomatoes: I'm sorry, I love you, please forgive me, I thank you. As we exited the property with our worldly goods (guitars, flashlights, underwear, dog poop bags ...you know, all the important stuff), Nadine jumped out of her car to save the raggedy ass rustic Capo Creek sign and blow a kiss to the ranch.
This time we headed west on a rural road over the mountains to the ocean, since serious fires were burning to the north, east and south of us. It felt a little like Dunkirk. We found a cabin that would accept the dogs and hunkered down each night, some of us returning during the day to check the ranch, check on the wines, rotate the irrigation, and move winery equipment in and out of the cave as needed for protection. We were all scared to death, and together experienced a myriad of emotions and tears over the next several days. Along the road we had passed a rural cemetery with a large rock by the entrance telling us to call Clyde Dogget if we needed to use their services. Of course, the name Clyde Dogget became our new expletive that made us all laugh out loud every time someone cried it out. Thank you Clyde Dogget wherever you are.
Mother Nature had already tested us earlier in the season with a record heat wave with temps reaching 112-114 degrees, resulting in lower grape yields across the board and a challenging start to the harvest. In the end we were among the fortunate ones. We still had our homes and our lives. Capo Creek was unscathed by fires and we count our blessings every day. It had been hell thinking we might lose everything, and sadly many did, including their lives. After truly feeling like the world was coming to an end the skies are now clear and the sun is shining once again. Although we took a huge financial hit due to record low yields from heat and fires, we are clawing our way through, counting our blessings and hugging each other every day. We are thankful for our families and to the outpouring of support from all of you. May you all have the happiest of Thanksgivings.
Ho'opono pono
Clyde Dogget!