November 22, 2020 | All Posts, MOG Boss Kitchen and Hospitality | Mary Roy
Harvest Swirl Cheesecake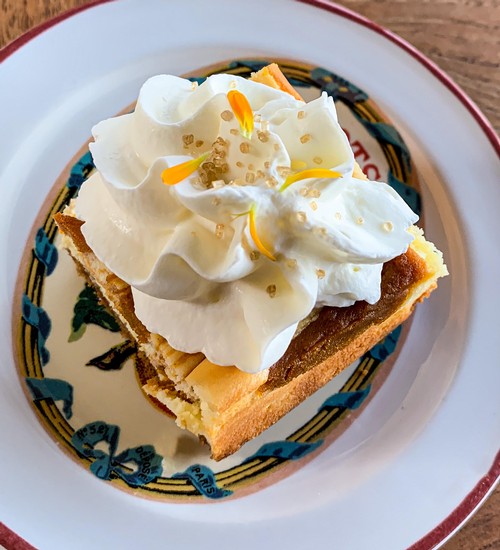 SERVINGS: 9
SERVING SIZE: 3 x 3 inch slice
INGREDIENTS:
CRUST
Graham cracker crumbs 1 1/2 cups
Brown sugar 2 tbsp
Saigon (Vietnamese) cinnamon* 1 tsp
Ginger ground 1/8 tsp
Butter unsalted 5 tbsp melted
Parchment paper 2 pieces
FILLING
Cream cheese 24oz room temp
Brown sugar 1/2 cup
Eggs room temperature 2 medium
Granulated sugar 1/2 cup
Salt kosher 1/2 tsp
Madagascar vanilla bean paste* 1 tsp
Heavy cream 1/4 cup
SWIRL
Pumpkin canned 1/2 can (approx 7 oz)
Egg 1 medium
Maple syrup 1 tbsp
B&B liqueur 1 tbsp (substitute w more maple syrup if desired)
Brown sugar 1/2 cup
Saigon (Vietnamese) cinnamon 3/4 tsp
Ginger ground 1/2 tsp
Nutmeg whole grated 1/8 tsp
Salt kosher 1/4 tsp
1. Preheat oven to 325 F. Prepare a 9 x 9 inch square baking pan by placing two sheets of parchment inside the pan running opposite directions. Leave overhand to be used as handles (see photos).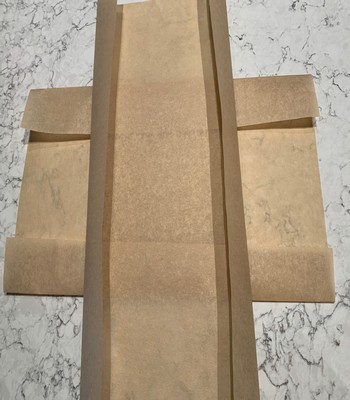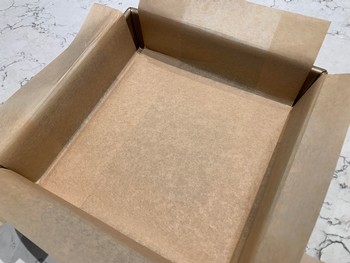 2. Mix together crust ingredients with a fork in a medium size bowl, adding the melted butter last. Place over the parchment paper makeing sure to fill corners and then tamp down flat with the back of a spoon or shot glass. Bake on middle rack in oven for 8-10 minutes until fragrant.
3. Whip the cream cheese thoroughly with a hand mixer for several minutes, then add sugars and beat an additional 2 minutes. Scrape down the sides as you go to ensure a well mixed creamy blend. Add salt, vanilla bean paste, cream and eggs (add only one egg at time and whip for at least one minute between each egg addition).
4. In a separate bowl add all the SWIRL ingredients and mix together with a spoon. Set aside. Pour the creamy cheese filling over the crust and gently guide into the corners. Drop small spoonfuls of the pumpkin spice mixture over the cream cheese filling. Insert a small sharp knife into one corner of the cheesecake so that the tip is just above the crust layer and run back and forth through the cake. For more intense swirling you can also turn the cake perpendicular and repeat the process in the opposite direction. Bake for 30 minutes on center rack. The cheesecake should be relatively firm around the margins but should still be a bit loose in the center. If needed, cook for additional time checking every 4 minutes. When it reaches the right consistency, turn the oven off, open the door part way and leave for an additional 30-45 minutes in the oven. When cool, cover and refrigerate overnight.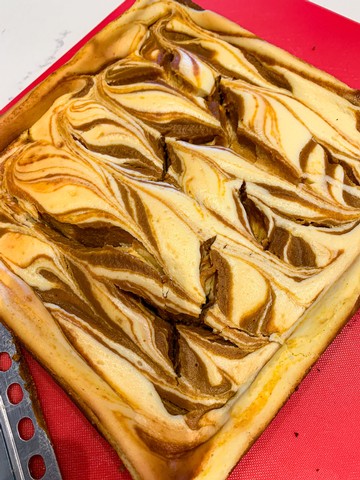 5. To serve, lift the cake out of the pan onto a cutting board using the parchment handles. Cut into squares (3 x 3 or smaller). Only cut as many portions as you are going to use right away and wipe you knife clean between each slice; the rest can be left on the cutting board and stored for two days in the fridge, loosely covered with foil. Whip the heavy cream with a hand mixer or whipped cream cannister. Top the slices with the cream and a sprinkle of Demerera finishing sugar. Edible calendular flower petals or purple bachelor buttons make gorgeous finales.
Notes:
Saigon (Vietnamese) cinnamon is generally more intense than traditional Ceylon cinnamon and I prefer it for more heavily spiced preparations. The more costly and lightly scented Ceylon cinnamon can be reserved for smoothies, cinnamon rolls or other more delicate preparations. Feel free to substitute as needed.
Madagascar Bourbon Pure Vanilla Bean Paste imparts great flavor in this recipe, but can also be substituted with standard pure vanilla extract (not imitation) or vanilla bean seeds from the pod.