April 3, 2021 | All Posts, MOG Boss Kitchen and Hospitality | Mary Roy
Strawberry Brie Bites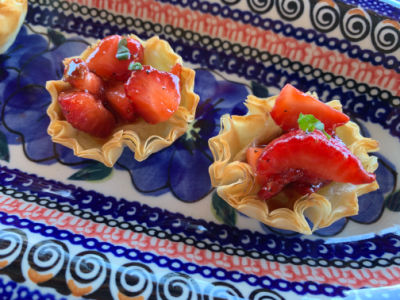 Servings: 4
Serving Size: 2 Brie Bites
INGREDIENTS:
Phyllo cups one package frozen*
Brie cheese* one small package
Strawberries, 4-5, diced
Balsamic glaze, 1 tsp (a good squirt)
Black Pepper (pinch)
Salt (pinch)
Basil for garnish
DIRECTIONS (see additional notes below):
1. Preheat oven to 325F. Assemble phyllo cups on baking sheet. Cut brie into small pieces and place 2 pieces in each cup. Bake in oven until brie is melted (do not let the phyllo cups get too brown). Cool to room temperature.
2. Meanwhile, mix together the strawberries, balsamic glaze, salt and pepper (you may add a little extra pepper for kick, but keep salt very light). Spoon into the cups over the brie.
3. Garnish with torn bits of basil.
4. Make sure to pair with our popular Capo Creek Rose' of Grenache and Zinfandel. Cheers!
NOTES:
*Frozen phyllo cups usually come 12-15 per package. The extras can be stored in the freezer for a couple of weeks.