April 3, 2021 | Mary Roy
Roast Beef Crostini w Horseradish Cream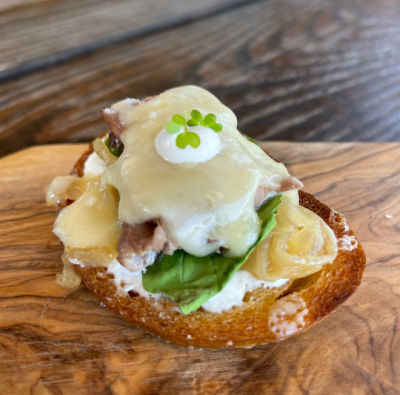 Servings: 4
Serving Size: 2 Crostini

INGREDIENTS:
French Bread Loaf
Butter, Unsalted, 5 tbsp plus 1 tbsp
Sweet onion, one, thinly sliced
Olive Oil, 1/8 cup plus 1 tbsp
Garlic Salt*
Roast Beef, rare, sliced**
Jack Cheese, shredded, approx 8-10 oz
Sour cream, 1/2 cup
Horseradish, grated, 1-3 tbsp
Chives, approx 1/4 cup finely chopped (reserve small amount for garnish)
Arugula, generous handful
Maldon salt

DIRECTIONS (see additional notes below):
1. Slice the loaf on a diagonal into 8 nice size crostini. You can slice the whole loaf and wrap the extra slices tightly in plastic bag to store in the freezer for future use. Preheat oven to 400F.
2. Carmelize the onions in the tablespoon of olive oil and tablespoon of butter.
3. Melt the remaining butter and olive oil in the microwave. Brush liberally onto each side of the crostini, then sprinkle with garlic salt.
4. Bake crostini approximately 5 minutes until lighly golden brown, turning half way through. The surface should have a light toast like consistency, but the edges should not be too dark. Set aside to cool slightly and turn oven setting to broil.
5. Mix the sour cream, horseradish and chives together in a small bowl, adjusting to taste. Assemble each crostini and place on sheet pan lined with foil or parchment. Begin assembly with a tsp of the horseradish cream, followed by onions, arugula, roast beef and cheese.
6. Broil crostini briefly, just enough to melt the cheese. Top with a small dollop of horseradish cream and garnish with fresh chives, chive blossoms, microgreens or sliced radish. Sprinkle lightly with Maldon salt just before serving.
Notes:
*For the garlic salt, use a coarse ground sea salt with parsely flakes such as Lawry's Brand
** For the beef, feel free to use high quality rare deli roast beef, medium sliced. Alternatively, we love it with decadent filet mignon, cooked rare and thinly sliced.