June 17, 2020 | All Posts, MOG Boss Kitchen and Hospitality | Mary Roy
Roasted Piquillo Pepper with Melted Mozzarella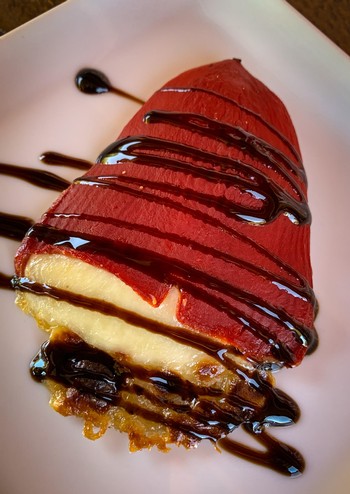 ROASTED PIQUILLO PEPPER WITH MELTED MOZZARELLA
INGREDIENTS
Four piquillo peppers, jarred, roasted
Eight bocconcini (small mozzarella balls)
Balsamic glaze (preferably in a squeeze bottle)
SERVING SIZE: four (as an appetizer)
DIRECTIONS
1. Place four of the peppers from the jar onto a few paper towels to remove excess moisture.
2. Preheat the broiler (or maybe if you are lucky you have your wood-fired oven burning already).
3. Carefully stuff two of the bocconcini into the pepper without tearing it. You may need to break the balls up a bit to fill the peppers efficiently. They should be well stuffed and look pregnant with a nice bulge, so you may need more or less depending on the size of the pepper.
4. Ten minutes before serving, broil for 3-10 minutes, until the edges turn a touch of brown, but so that not too much of the cheese has oozed out.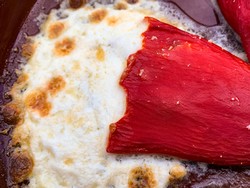 This is an example of a little too much oozing of the cheese, although the caramelized edges sure tasted good. If excess juices accumulate in the pan early on in the broiling process, just carefully drizzle them out over the edge of the pan and into the sink while safely holding the peppers with the back of a fork to prevent them from sliding.
5. Allow to cool at least 5 minutes before transferring with a metal spatula or knife onto a plate, keeping the relationship of the cheese and pepper intact. Drizzle with balsamic glaze. Sit back, relax and pair with a nice medium-bodied red wine such as our Estate Zinfandel or Songwriter Zinfandel Blend.