February 25, 2021 | All Posts, MOG Boss Kitchen and Hospitality | Mary Roy
Black Garlic Crostini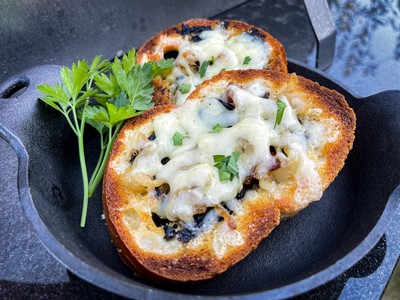 Servings: 4
Serving Size: 2 Crostini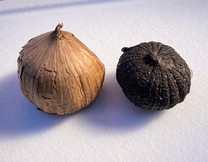 INGREDIENTS:
French bread loaf
Black garlic*
Butter, unsalted, 5 tbsp plus 1 tbsp
Olive oil, 1/8 cup plus 1 tbsp
Sweet onion, one, thinly sliced
Gruyere cheese, 2-3 oz
Fontina cheese, 2-3 oz
Garlic salt**
Parsley for garnish
DIRECTIONS: (see additional notes below):
1. Slice the loaf on a diagonal into 8 nice size crostini. Preheat oven to 400F.
2. Caramelize the onions in the tablespoon of olive oil and tablespoon of butter.
3. Melt the remaining butter and olive oil in microwave. Brush liberally onto each side of the crostini, then sprinkle with the garlic salt.
4. Bake approximately 5 minutes until lightly golden brown, turning half way through. The surface should have a toast-like consistency, but the edges should not be too dark. Cool thoroughly.
5. Peel the black garlic and mash the garlic onto a cutting board with the back of a fork or knife into a paste like consistency. Spread the garlic carefully onto the crostini without breaking them. Add the onions on top of the black garlic, top with a combination of the two cheeses, and place briefly in broiler when ready to serve. Add chopped parsely and enjoy with a glass of Capo Creek Open Mic Red Rhone Blend!
NOTES:
The extra bread slices and onions are easily stored for future use (both can be wrapped air tight and frozen). *Black Garlic used to be hard to source, but can now be found in many specialty food stores such as Whole Foods, but can also be accessed easily on Amazon.
**For the garlic salt, we recommend a coarse ground sea salt with parsley flakes such as Lawry's Brand. The choice of cheese is up to you, but we find the combination of Gruyere and Fontina (or the less expensive Fontal) to work harmoniously with the earthiness of the wine.