November 20, 2017 | All Posts, MOG Boss Kitchen and Hospitality | Mary Roy
Sonoma Stuffing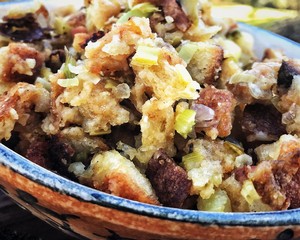 Be sure to cook this the day you serve it so that you can tantalize your guests with the delicious aromas. This is a stovetop version, especially helpful when oven space is at a premium. A cast iron skillet is preferred but not required. Make sure to use the cubed type of stuffing (photo below) rather than the crumbly, mealy stuff that is so common in the grocery aisle. If ambitious you can toast your own cubes in the oven but honestly, who has time for that? I have tried it both ways and don't feel that the homemade cubes add any extra value. Adding melted butter after combining the ingredients helps allow that great caramelization, creating golden brown buttery little nuggets. The result is a little like the crispy bottom you get when you make a paella (the socarrat). Leftovers are great with gravy, or can be made into little appetizers by rolling into balls, dipping in beaten egg, rolling in Panko bread crumbs, and frying. Get those stretch pants out!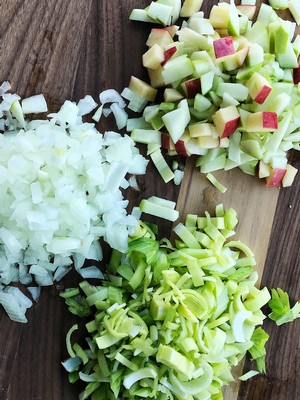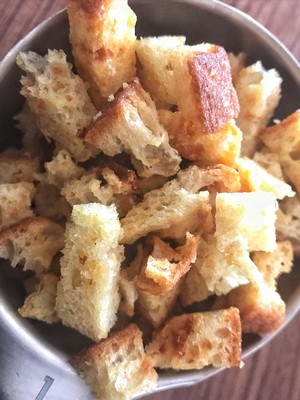 SERVINGS: 8
SERVING SIZE: 3/4 cup
INGREDIENTS:
Stuffing Cubes 3 cups, store bought
Apples 3/4 cup, cut into 1/4 inch cubes (granny smith or firm red)
Cornbread 1 cup, store bought and cut into little cubes
Celery 3/4 cup, sliced
Leek 3/4 cup, sliced
Sweet onion 3/4 cup, diced
Butter unsalted 1 stick (8 tbsp), melted in microwave
Olive oil 2 tbsp
Low sodium chicken broth 1 1/2 cups
Herbs optional (sage, parsely, rosemary)
Salt to taste
Saute the onions, leeks, apples and celery in the olive oil over medium heat until just barely softened (you want to maintain a little crunch).

Continue cooking on medium heat while adding in the bread cubes and corn bread, stirring lightly to combine.
Gently add 3/4 cups of the broth, concentrating along the edges of the pan where the cubes are the driest. Continue cooking a few more minutes, slowly adding more broth as needed to lightly moisten the cubes. Do not over saturate the cubes or you will get a soggy mess. Adding in fresh herbs is optional, but I prefer the basic flavors (and the bread cubes often have herbs and salt in them).
Slowly drizzle the melted butter into the mixture, combine lightly, and continue cooking on medium heat letting a light crust form on the bottom layer before turning. Use a spatula to turn the stuffing over in large sections so that you do not overwork it. This allows the edges of the bread cubes to form that crunch that adds great texture. You can always add a little more broth or butter (of course butter is richer and more decadent), but the idea is to keep the some of the crunch so don't go overboard. Add salt to taste if needed and serve in a gorgeous bowl. Bon appetit!