July 26, 2018 | All Posts, MOG Boss Kitchen and Hospitality | Mary Roy
Sesame Tuna Wontons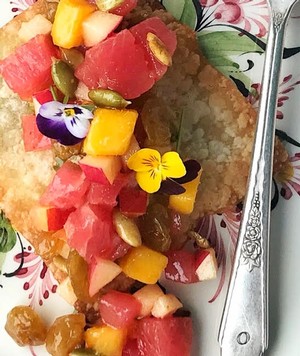 This versatile recipe can be changed to include various fresh seasonal ingredients. My favorite fresh fruits include nectarines, apricots, mangos, cherries, crisp apples, crisp pears, fuyu persimmons, mangos, halved grapes, pomegranate arils and avocados. Pick two or three based on what looks best at the farmer's market or produce section, and add them to the base recipe of tuna, raisins and pepitas. I like to include at least one of the crispier fruits like apple or fuyu persimmon to enhance the overall texture.
Make sure to source the best sushi grade frozen tuna you can find. Expensive for sure, but this recipe allows for portioning of the tuna steak so that a little goes a long way.
For the wonton wraps, the square wrappers have a more elegant presentation, but the round will work just as well. If you are sensitive to spicy ingredients, you can always substitute regular dark sesame oil for the sesame chile oil. When measuring out your raisins, try to choose the lighter colored raisins for optimal presentation. Dried red currants or craisins could be substituted if desired. I am partial to the golden.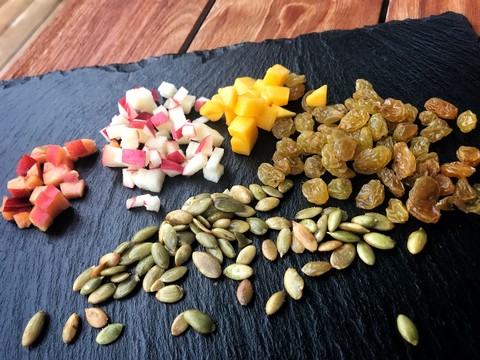 SERVINGS: 4-6
SERVING SIZE: Two wontons
INGREDIENTS:
1. Remove tuna from freezer and place on cutting board for 15 minutes. Allow it to sit brieflly to allow cutting of the block into slices while still frozen. You can also make smaller servings by cutting just a slice or two and then wrapping and returning the original block promptly to the freezer.
2. Meanwhile, select a handful of the prettiest golden raisins and place them in the bottom of a small dish. Cut the tuna into 1/4" slices, and then into 1/4" cubes. Place cubed tuna over raisins, cover with cling wrap and place in fridge.
3. Heat olive oil in small saute' pan on medium heat, and gently fry the wonton wraps until light golden brown (usually turning twice during the process). Drain well on paper towels, cool, and store in a tight-fitting container between layers of clean paper towels (these will retain their freshness for up to two days, but same day/day before is best).
4. Cube the fruit (similar size as the tuna cubes) and layer it over the tuna (do not mix together). If you are using apples, pears or avocados, wait and cube them just before serving since they are more prone to oxidative browning and are best cut as fresh as possible.
5. Just before serving, assemble 1-2 wontons on individual plates. Finish cutting any last minute fruits and add to the bowl of tuna along with the sesame oil, sweet chile sauce, pepitas and fresh squeezed lime. Gently toss to combine and carefully place on top of the wontons. Add a pretty little garnish (violets, borage or bachelor button flowers work great) and voila!
Alternative serving suggestion for a crowd: You can serve the tuna mixture in a well-chilled ceramic bowl set in the middle of a larger platter. Gently lay the wontons on the platter around the bowl and let your guests self serve. Make sure you provide cute little appetizer plates!